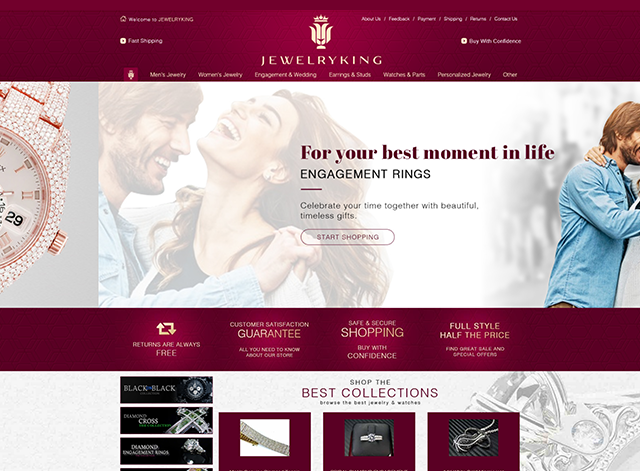 Jewelry King Inc., has been in business for decades. Our hours are 10AM to 7PM Wednesday through Sunday, and we accept Paypal Visa, Mastercard and American Express. We offer and stock a wide array of jewelry and products ranging from Gold jewelry (chains, bracelets, earrings, rings, pendants) to diamond jewelry, loose gems and diamonds, gold, bridal, casual, formal jewelry and watches.
We buy, sell or auction estates and can offer the highest price for your old unwanted jewelry or watches in any shape or form. We offer estate appraisals.
We offer free appraisal and free jewelry cleaning on merchandise purchased in our store. We service jewelry, watches, stone setting and remounts.
As a family owned business we provide individualized attention and offer very reasonable and affordable prices (far better than major retailers or jewelry chains) with personalized and timely service. At Jewelry King Inc.,you know you will receive high quality merchandise and exceptional service with competitive prices from an experienced and knowledgeable jeweler who has your best interests at heart.
With advances in technology, our customers throughout the United States and around the world can purchase jewelry from us receiving the same standard of high quality customer service.

Jewelryking
Category

eBay & Amazon store designs

Website

http://www.ebaystores.com/jewelryandgiftswithheart